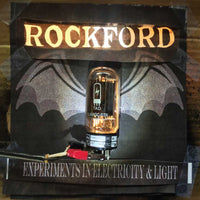 Rockford "Experiments In Electricity & Light"
Pre-order Rockford's debut LP "Experiments In Electricity & Light" on 180g black vinyl (with free digital download card included) or on CD. By buying early you'll help the band and be among the first to receive our debut album. You'll also be invited to their record release party / show at The Compound in Long Beach CA where the bulk of this album was recorded.
click here to purchase vinyl or cd
Rockford
They've been friends a long time. They practice in the back of a pawn shop somewhere in Southern California. Earthquake country. You heard they're playing live. It's a good room to play in. Old friends will be there. There's a great band they're playing with. You're sitting at the bar. The sun's not down yet. They're loading in, setting up. It's an early set. The drummer counts off the first tune. The ground shakes.
Rockford plays amplified music built of two guitars, bass and drums.
for sounds, shows & secrets go to:
- www.rockford.band - - or click facebook & youtube links below -